Liz and the Blue Bird (2018) full hd bluray 1080p Vostfr Japanese Streaming and direct download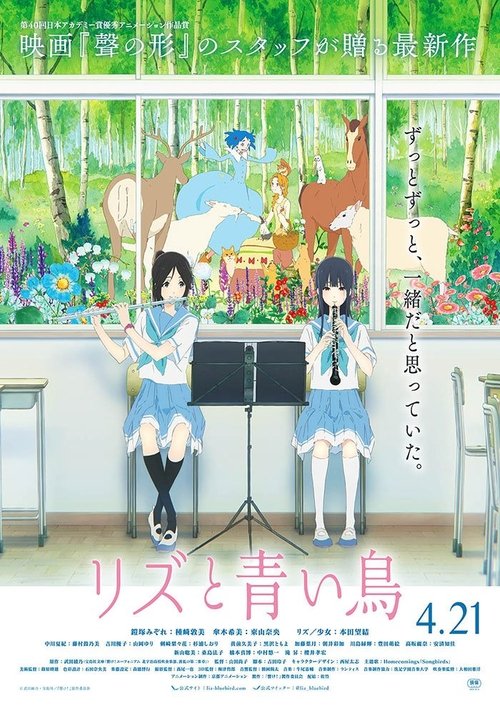 Origin : Japan
Director: Naoko Yamada
Actors: Atsumi Tanezaki, Nao Touyama, Ayaka Asai, Tomoyo Kurosawa, Chika Anzai, Yuichi Nakamura, Konomi Fujimura, Takahiro Sakurai, Shiori Sugiura, Miyu Honda, Moe Toyota, Houko Kuwashima, Yuri Yamaoka
Genre : Music, Animation, Drama
Runtime: 1h 30min
Release date: 21 Avril 2018
Original title: リズと青い鳥
Audience reviews:
3.9
More information on themoviedb : http://www.themoviedb.org/movie/482150
Trailer : 『リズと青い鳥』特報, 『リズと青い鳥』特報第2弾, 『リズと青い鳥』本予告 60秒ver., 『リズと青い鳥』ロングPV, Liz and the Blue Bird | Official US Trailer, Liz and the Blue Bird | Official US Trailer 2

Mizore Yoroizuka and Nozomi Kasaki are two close friends who are part of the Kitauji High School music club. Quiet and reserved Yoroizuka plays the oboe while lively and popular Kasaki plays the flute. The group has decided to play Liz and the Blue Bird, a song inspired on a fairy tale about the relationship between a girl and a bird. The musical piece puts both Mizore and Nozomi on the spotlight due to a solo part by Yoroizuka and forces the two girls to reexamine their friendship.


Language:

Japanese
Subtitle:

True French
DIRECT DOWNLOAD and STREAMING :
(—Blu-ray—–1080p x264) (size : 4.4 GB) (VOSTFR JAPANESE) : [1fichier]